Springfield Neighbors magazine brings neighbors together, supports the community, and creates "word-of-mouth" social media impact in the neighborhood that not only increases awareness, but also builds trust and loyalty for our community sponsors.
Since we mail directly to residents' homes through a micro-targeted approach, we deliver high impact exposure for our sponsors without waste.
If you would like your business brand to be part of the conversation in Springfield, Delaware County PA contact us for more information.
The magazine may contain the following:
Featured Family or Resident
Charity Spotlight
Local Expert Articles
School News
Local Calendar of Events
Around Town Highlights
Community News and Notes
Local Food
Recipes
Local Athletes
Real Estate Updates
Shop Local Business Profiles
and much more..
BVM brings neighbors together, helps small businesses grow, and is one of the fastest-growing companies in the print media industry.

Our community publications combine the best elements of social media and print by sharing news and stories that matter to our readers. We introduce local businesses to neighbors by featuring families and community leaders in our monthly magazines.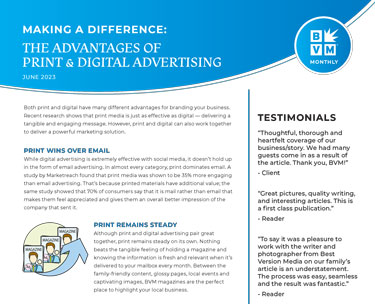 Our Expert Contributors are part of the Springfield Community. They share their expertise with articles as well as high quality products and services to contribute to our local economy. See our current list…
We have shared a variety of our recent magazine articles by these local experts online in our blog/articles section…